After recently becoming single several months ago, it amazes me how quickly people send selfie pics of their privates, even if I have absolutely no interest or have given no inclination of a desire to see what they're packing. What happened to the days where people dated and had the pleasure of unwrapping each other's genital goodies when the time was right? Surprisingly this is not just happening with the younger crowd. Don't know how many times I have been contacted by uber-successful, professional men in their 40's & 50's whose intentions I believed to be business-minded, only to be bombarded with photos & videos of their often unattractive undercarriage. Trust me, there is nothing hotter than a hard, erect cock but I think most of us girls would like to choose when we want to see or explore it.
Now ladies, I know sexting is just a part of most relationships these days and trust me I'm the queen of it. We send those sexy, risque shots to be playful with our man. But sometimes when we get a hot pic of a hot guy's lust rod, we send a naughty one back just to say "Hey, look what I got!"… Guilty as charged on that one as well 😉
Either way, we ALL must be careful with the new epidemic of revenge porn, hackers or just douches and douchettes who are untrustworthy with our sexy, intimate shots.
And by the way… to the 50-something-year-old in LA with the ass and balls that look like you had a botox job gone wrong on or you've sunbathed for the last 50 years with your legs spread open: That disgusting video you sent masturbating and humping the camera while doing it, ejaculating all over your phone… You asked after sending it if that was too hot…? I never responded so here is my response: That was so NOT hot and I can't believe you work with Trump. You're lucky I'm discreet.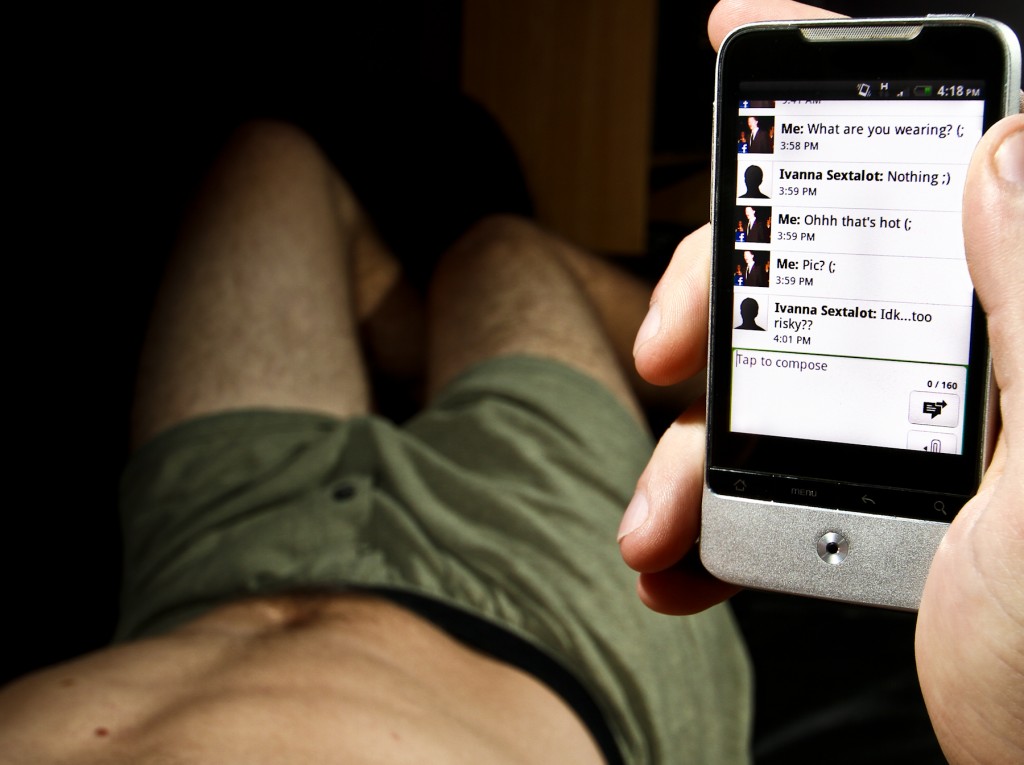 The following is written by DON THOMPSON Associated Press

 A San Diego man has been charged with operating a revenge porn website that let people anonymously post explicit photographs of others in an effort to extort money from those whose privacy was breached.
Kevin Christopher Bollaert, 27, was arrested Tuesday by California Department of Justice agents on 31 felony counts of conspiracy, identity theft and extortion. Authorities say he earned tens of thousands of dollars from a pair of websites he operated in the scheme.
Bollaert created the site ugotposted.com a year ago, according to court documents. The site, which was inactive Wednesday, displayed thousands of nude pictures without the permission of those photographed, investigators said.
The expression "revenge porn" comes from the preponderance of such explicit images posted online by former lovers in attempts to shame the subjects of the photographs after breakups.
The images used can be obtained consensually during a relationship or can be stolen or hacked from online accounts.
The practice resulted in a new California law that makes it a misdemeanor to post identifiable nude pictures of someone else online without their permission and with the intent of causing serious emotional distress or humiliation, though that law was not cited in the charges against Bollaert.
Unlike most revenge porn sites, investigators said Bollaert's Web page required that the victim be identified by name, age and other information, leading to the identity theft allegations. Bollaert also is charged with obtaining identifying information with the intent to annoy or harass.
His attorney, Alexander Landon, has not returned repeated telephone messages over two days.
The documents say Bollaert charged victims a fee ranging from $249.99 to $350 to remove the images, using emails sent through a second website, changemyreputation.com. That led to the extortion charges. That site also has gone inactive.
His activities "turned their public humiliation and betrayal into a commodity with the potential to devastate lives," Attorney General Kamala Harris said in a statement.
Bollaert was released from San Diego County jail after posting $50,000 bail. He is set to appear in court Dec. 17.
Authorities say he told investigators during a six-month investigation that he received about $900 each month from online advertising. However, the department said records from his changemyreputation.com PayPal account show that he received tens of thousands of dollars.
For 100% Confidential Coaching on Love, Sex, Relationships, Business or Career contact us TODAY at 904.679.5067 or email CoachNow@ZoeLena.com