Something awesome is in the works! It's sexy… savvy… and spiritual. In the very near future the Dr. Zoe Today APP will be available for FREE download in your iTunes Store or Android Market!
The app will feature daily inspiration on real, raw and relevant topics such as love, sex, relationships, global business and Universal spirituality. App users will be able to submit questions to Dr. Zoe on these topics which will be answered on her upcoming weekly radio show. Both the live radio show and the archives can be listened to through the app while you go about your day or night! Among other features, users will also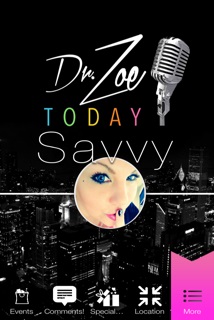 have exclusive access to free personal development content, gifts and special offers!
The sleek, sexy design and ease of use of course is a plus but who would expect anything less from Dr. Zoe, aka "The Confidential Coach" and President & Founder of Katapult Enterprises.
To be among the very first to know about the launch of the "Dr. Zoe Today" APP, subscribe to updates via the form on the right hand side of this site! You will even receive a free copy of
"Inspirational Quotes for Your Life's Journey" by Dr. Zoe
  when you subscribe! Also be sure to stay sharply tuned to Dr. Zoe's social networks!