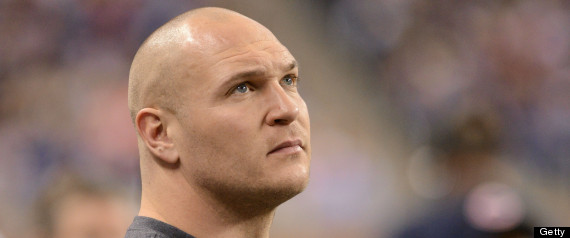 No longer in the NFL, former star linebacker Brian Urlacher revealed part of the Chicago Bears' gameplan in recent years: faking injuries.
Urlacher talked about his former team's defensive strategy as an analyst on Fox Sports 1, claiming that Chicago "had a guy who was the designated dive guy," via the Chicago Sun-Times. He explained that a Bears coach would signal for a player to "get hurt" from the sideline.
The NFL has attempted to eliminate faking injuries over the past few seasons. After two New York Giants defenders simultaneously fell to the ground with phantom injuries in a game against the Rams in 2011, the league sent a memo to all 32 teams and threatened to fine and suspend players if they fake an injury.
"It's always been in the game," safety Ed Reed said in September 2011, via the Associated Press. "It's all tactical stuff you need to use. Whatever it takes. … If you're tired, you're tired. You get a break however you can."
In 2012, Pittsburgh Steelers receiver Emmanuel Sanders successfully faked an injury against the Cincinnati Bengals and was mocked by NBC's Al Michaels and Chris Collinsworth on "Sunday Night Football." Sanders was fined $15,000 and the Steelers were docked $35,000.
Just weeks before Sanders "went down," the NFL sent another memo to every teamwarning them about faking injuries in order to avoid using a timeout. But NFL vice president of football operations Ray Anderson said the league was hesitant to propose a rule due to possibly encouraging injured players to stay on the field.
Will the NFL have to send another memo this season?
For 100% Confidential Coaching on Love, Sex, Relationships, Business or Career contact us TODAY at 904.679.5067 or CoachNow@ZoeLena.com