Openly Gay Male Athletes Jason Collins, Robbie Rogers And Orlando Cruz Struggling For Impact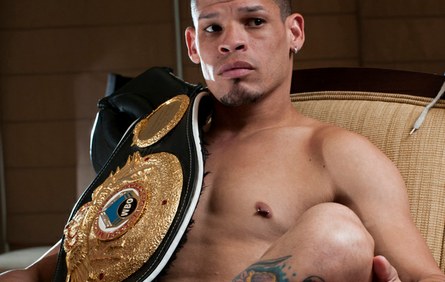 Months after admitting they are gay athletes, soccer's Robbie Rogers, basketball's Jason Collins and boxer Orlando Cruz have been unable to have much on-field impact upon the global sporting landscape.
Collins, a 34-year-old journeyman free agent center who revealed his homosexuality last April after the NBA season had concluded, is still seeking a team to sign him with the start of NBA pre-season training camps less than two weeks away.
Rogers, who made a historic debut with the Los Angeles Galaxy in May, has played only nine times for the Major League Soccer club after a hamstring injury last month.
And Cruz, twice a winner since admitting last October that he is gay, will finally have the first world title bout of his 13-year career next month and is dedicating it to his gay supporters as well as his homeland of Puerto Rico.
"I'm happy with my situation," Cruz said. "I have had a lot of support from all around the world. I want to thank all the people who have supported me. I've been working hard for this one. I want to do this for Puerto Rico and the LGBT (Lesbian-Gay-Bisexual-Transgender) community — I want to dedicate it to my people."
Southpaw Cruz, 20-2 with 1 drawn and 10 knockouts, will fight Mexican former world champion Orlando Salido, 39-12-2 with 27 knockouts, for the vacant World Boxing Organization featherweight title on October 12 at Las Vegas.
"My life changed completely. I'm a different person," Cruz said of what has happened to him since his revelation. "I just want to keep going. I'm happy with the support. I want to keep climbing the mountain and with the support I get to bring the title to my people and make history."
Cruz would become the first openly gay world champion in boxing history with a victory.
"I'm proud of him for being brave, for coming out like he did," said Cruz's promoter Tuto Zabala. "It's just amazing the happiness he has. Everything's ready for his title shot."
By contrast, Collins revealed his status to great fanfare in an article in Sports Illustrated after finishing a season split between the Boston Celtics and Washington Wizards.
US President Barack Obama called to congratulate him and players from around the league supported his decision. But so far, no team wants him on their bench.
"It's time for someone to step forward," Collins told the Seattle Times earlier this month.
"I don't care if I score a single basket. I care about winning basketball games," Collins said. "That's what I've done my whole career and that's what I hope to continue to do in this upcoming season."
Collins helped the Nets reach the NBA Finals when they were based in New Jersey and former teammate Jason Kidd, now coach of the Brooklyn Nets, says Collins still has something to offer a team.
"I think he can still play," Kidd said last month. "There's always a veteran that can help a young team. I think he will find a job at some point."
Also looking for work is Chris Kluwe, a vocal gay rights advocate who was a punter for the NFL Minnesota Vikings until being dropped last May 6, barely a week after being a vocal supporter of Collins.
Kluwe underwent minor left knee surgery in the off-season but was in good health at the time. He was given a look by the Oakland Raiders in the pre-season but dropped before the season began earlier this month.
While there was talk of an NFL player revealing that he is gay in the wake of Collins's announcement, no such move has been made.
A groundbreaking moment came last May 26, however, as US midfielder Rogers walked onto the field as a substitute in the Galaxy's 4-0 win over Seattle to become the first openly gay man to play in a major North American pro sports league.
Rogers, who had played for Leeds in England, had revealed he was gay earlier this year as he announced his retirement, but he made an MLS comeback and played nine matches with the Galaxy.
For 100% Confidential Coaching on Love, Sex, Relationships, Business or Career contact us TODAY at 904.679.5067 or CoachNow@ZoeLena.com