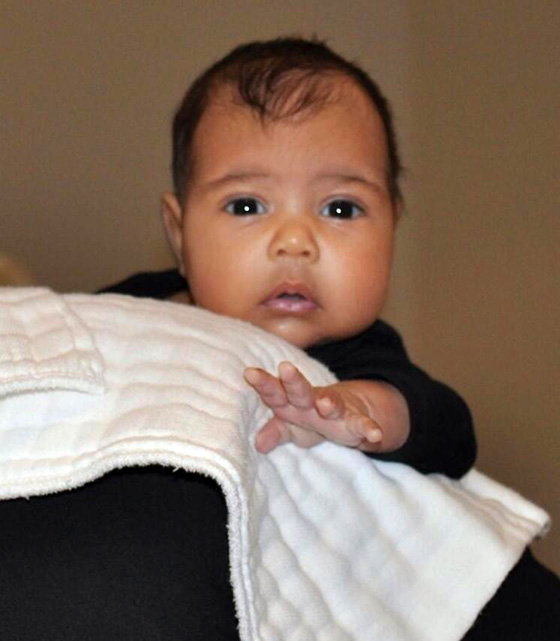 The very first picture of baby North West is finally here — and she is just as adorable as we thought she would be! Kanye finally revealed North's highly anticipated picture on the Aug. 23 episode of the 'Kris' show! Those eyes!!
Little North West is just so precious! After months of waiting for our first glimpse of baby Nori, we're so glad her first picture is finally here — and it was completely worth the wait! You have to check out the adorable pic of Kim Kardashian, 32, and Kanye West's little one! Kanye showed off her pic during an emotional interview on the season finale of Kris Jenner's daytime talk show Kris.
Kanye West: Baby North West Picture Revealed — 1st Photo On 'Kris' Finale
Awww! We can finally put a face to the unique name — the first pic of North West is finally here! Kim and Kanye kept their daughter private for the first months of her life, choosing only to make secret trips out to visit Kim's family and to doctor appointments, her mom Kris Jenner revealed on her talk show. We got teaser pics of North twice: once when Kim and Kanye were snapped heading to a doctor's appointment on Aug. 14 and then once again when the couple attended Kanye's grandpa's funeral on Aug. 17.
But that all changed when the very first good pic of the gorgeous 2-month-old was finally revealed by Kanye on Aug. 23! The proud new dad took the opportunity of his interview on Kris's show to share an adorable pic of his little girl on the grandma's test season finale show! The tiny girl, clad in a black onesie and propped up on a pillow, was just so precious that the pic of her was worth the wait!
Kanye said that he hopes that she'll grow up to look like her stunning mom Kim! She definitely has her mom's eyes — even Kris thinks so! Kris also thinks that North has Kanye's cheeks. Do you agree?
Shortly after the show went live, Kim tweeted the same picture of North out with the excited caption "NORTH."
Kim Kardashian Makes First Post-Baby Appearance On 'Kris'
Kim certainly left us waiting, when it came to her daughter's first appearance and hers as well! Kimmy waited until August 2 to make her first post-baby appearance on her mom Kris Jenner's talk show, Kris, via secret video message! While the new mom only revealed her face in the video, she looked great and happy!
From http://hollywoodlife.com
For 100% Confidential Coaching on Love, Sex, Relationships, Business or Career contact us TODAY at 904.679.5067 or CoachNow@ZoeLena.com