ZoeLena's comments on the following:
Snapchat is trying to clean up their image? REALLY? It's easy for the co-founder to condemn the app's users when they are in fact what has kept him in business the past two years. The company claims they want to attract a more wholesome, family-friendly audience, with Spiegel even stating in the article below he used Snapchat with his mother. If the app's primary function is to self-destruct your messages within 10 seconds, other than family gossip, what would be so racy that it needs self-destructing when you're talking to your mother?!?
As far as the company wanting more adult users, since their current demographics are ages 13-23, perhaps a marketing campaign to businesses in sharing confidential information or ideas may benefit SnapChat (I've only been a business adviser for many years but hey what do I know https://zoelena.com/ConfidentialCoach ). In reality, as the world is going to hell in a hand-basket anyway and as always, "Sex Sells", if the company wants to stay afloat and make the most money they might as well embrace the fact that they will always attract naughty teens, cheaters & perverts…  Be the guilty pleasure that you are.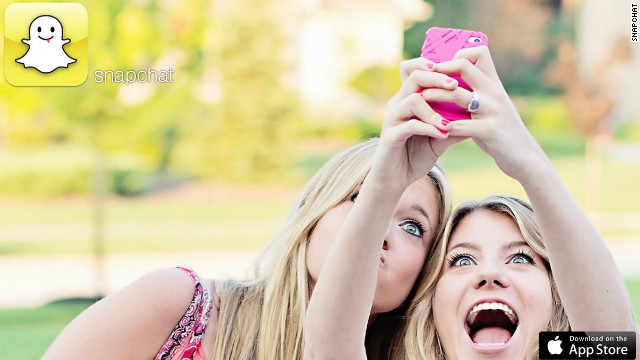 (CNN) — Snapchat is trying to get away from its reputation as a service for randy sexting teens and secretive philanderers.
"It's not a good way to send inappropriate photos," said Snapchat co-founder Evan Spiegel at the San Francisco Techcrunch Disrupt conference on Monday.
Snapchat is a popular mobile messaging app for sending self-destructing messages. Private photo and text messages disappear forever after one to 10 seconds. More than 350 million of these messages, called "snaps," are traded every day on Snapchat, according to Spiegel.
The short lifespan of the messages is what has made the 2-year-old app a natural for content people don't want falling into the wrong hands, such as naughty photos.
Spiegel pointed out that it is possible for a recipient to take screenshots of snaps, and said it was even possible for determined hackers with time and money to access the messages and "betray your trust."
Touting the potential security flaws of a product might seem like an odd move for a popular app, but for Snapchat to continue growing at a rapid pace it needs to appeal to a wider audience. Last year, Snapchat told AllThingsD that most of its users were from 13 to 23. The company needs to pull in more adults, starting with the founder's parents.
"I was just snapping my mom this morning," said Spiegel.
The company is also dabbling in the wearable computing world. On Monday, it announced a new app for the Samsung Galaxy Gear smartwatch called Snapchat Micro. With the app, users can upload photos taken with the watch's small camera, shaving a few seconds off the time it takes to share a moment.
Snapchat may be moving on to wrists, but it won't be coming to your face anytime soon.
Spiegel said the company had no plans to develop for Google Glass and dismissed the technology as invasive, saying, "You kind of feel like you have a gun pointed at you." Google's wearable computing system has already stirred up privacy concerns for its ability to surreptitiously capture photos, and the association could be just the kind of negative publicity Snapchat is trying so hard to avoid.
Spiegel didn't express the same concerns about a wearable wristwatch, but not because a tiny camera on a wrist is necessarily safer. He thinks Gear owners won't abuse the tool to take sneaky photos because he believes people are "generally not mean."
The other challenge for the company is actually making money off the service. Instead of taking the usual route and adding in display ads, Spiegel said the company was leaning toward in-app transactions. Investors seem confident that revenue details will be ironed out. In June, Snapchat received another $60 million in funding.
For now, the company is continuing to pitch itself as a wholesome app that's fun for the whole family.
"We don't want to be a place for people to share mean secrets," said Spiegel.
For 100% Confidential Coaching on Love, Sex, Relationships, Business or Career contact us TODAY at 904.679.5067 or CoachNow@ZoeLena.com